Save Hours a Week With Shipping Auto-Processing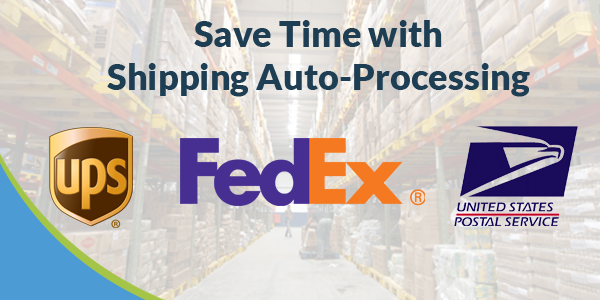 Did you know Kyozou has a tool to help automate your shipping process? By utilizing the 'shipping auto-processing feature' you can save hours a week of processing orders. Kyozou is here to help make your life easier selling online, anything you can do to increase sales and save time only leads to a more profitable operation. Learn how you can save time by letting Kyozou process your orders for you.

The concept is simple. You create a set of rules based on either price or weight. As orders feed into your account, Kyozou will generate a courier tracking number based on your criteria. For example we can create rules that if an order comes in between Weight 'A' and 'B' then Kyozou will process a tracking number based on the courier service level selected in the rule. In fact we can even setup Kyozou to automatically print a shipping label for you. If you're in your warehouse and you hear your printer printing labels then you know you're making money.
Scenario
Rule #1. Anything less than 5lbs will be sent using USPS Priority Mail.
Rule #2 Anything between 5.1lbs and 9.9lbs will be sent using UPS Ground.
Rule#3 Anything over 9.9lbs will need to be manually processed.
4 orders come in at various weights.
Order#1 = 13.9 oz will have a 'USPS Priority Mail' tracking number generated
Order #2 = 15lbs will not have a tracking number automated and will be required to be processed manually
Order #3 = 7.6lbs will have a 'UPS Ground' tracking number generated
Order #4 = 3.8lbs will have a 'USPS Priority Mail' tracking number generated
There is also an alternative method when using the 'Shipping Auto-Processing' tool that does not require setting a specific courier service level for each rule. How this works is that Kyozou will take the courier service level from the order that the customer selected in the checkout process. In the event that the listing was 'Free Domestic Shipping' and no service level is selected then Kyozou will process the order with the cheapest service level available that meets the orders criteria (weight and dimensions).
If you wish to learn more about utilizing the 'Shipping Auto-Processing' tool contact your Account Manager today at 1 (877) 596-9681.
***NOTE: Weight is a required field when listings your inventory and using the 'Shipping Auto-Processing' tool.
Article Written By: Kyozou Product Specialist Reid Armstrong