Countdown to Black Friday and Cyber Monday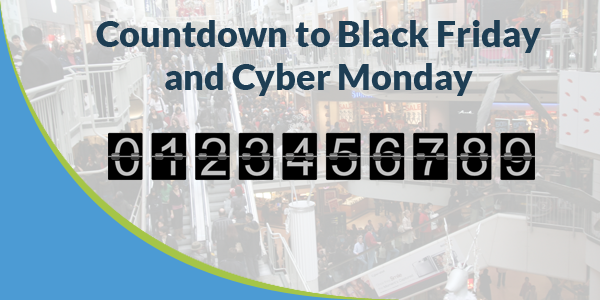 As we say goodbye to Halloween, we look at our calendars and see the holiday season quickly approaching. For online sellers Black Friday and Cyber Monday are two of the biggest shopping days of the year. Are you ready?
In today's online market it is more important than ever to utilize the tools you have available to increase sales and market your products. At Kyozou we have many tools to help from discount codes and newsletters signup forms to shopping comparison site integration. At Kyozou we can help.
Webstore Sale
Want to run a sale for Black Friday and Cyber Monday on your Kyozou webstore?
If you are using the price automation feature found in step 17 of our control panel for your Kyozou webstore it is very easy to change the percentage, essentially giving your webstore a sale (go from -5% to -15% and offer a 10% discount).  Once you have updated your prices, you can use our markdown manager also found in step 17 to show your customers the savings.

Discount Codes
Want to keep your prices the same but still offer your customers a discount? Why not use the Kyozou discount code feature. With this tool you can create your very own custom discount codes that customers can use during the checkout process. With discount codes you have total control. You can create a discount in the customer service module under the discounts section.

Newsletters
Communicating with your customers is key. One of the most efficient and easiest methods is sending a newsletter campaign. On your Kyozou webstore there is a newsletter signup form that customers can submit their email address to be included on your newsletter mailing list. In the customer service module of Kyozou we can export your mailing list information. Using a newsletter service like Mailchimp or Constant Contact you can easily setup a newsletter campaign. This is a great way to communicate to your customers about your Black Friday and Cyber Monday webstore sale or sharing your custom discount code with your customers.

Shopping Comparison Sites
Kyozou is integrated with 4 of the most popular shopping comparison sites (shopping.com, Google Shopping, PriceGrabber and Shopzilla). This is a great way to advertise your products, especially if you are offering a significant price drop with a sale. As these services mostly run on a pay per click payment structure it becomes a very affordable way to get your inventory visible to the masses.
eBay Options
If you wish to run a sale on your eBay store there are some great eBay specific features that help.
Markdown Manager:  http://pages.ebay.com/sellerinformation/stores/managing.html
eBay Newsletter: http://pages.ebay.ca/help/sell/email-newsletter.html
As one of the busiest times of year for online sales approaches the concept is simple, be ready. Get your inventory online, be competitive (prices, shipping) and let people know about it.
If you wish to learn more about utilizing Kyozou for the holiday season please contact your Account Manager at 1 877 596 9681.
Article Written By: Kyozou Product Specialist Reid Armstrong