Are You Ready for the Holiday Selling Season?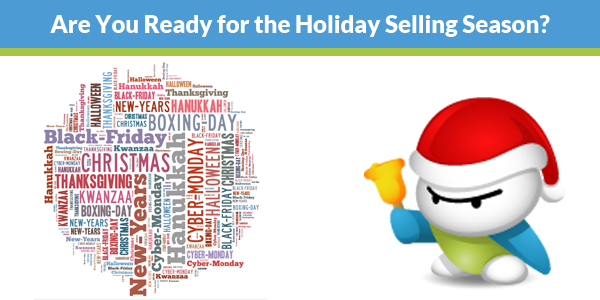 It's no secret the Holiday Selling Season can make or break you!  Being ready takes preparation.  You have to know what you plan to sell, where you will sell it, and how you will fulfill the orders, among other things.  Ebay has announced increased seller limits, and Amazon has more sellers who sell in the millions than any other marketplace!  You should also have your own e-commerce website so that consumers can identify and shop your brand.
There is more than just having inventory on hand to sell and ship.  You really need to have proper inventory management systems in place that automate many, if not most, of your processes.  A good inventory management system will allow you to quickly and easily launch your listings across multiple platforms, and synchronize every time a transaction takes place.  It will comply with the rules and regulations of the venues where you sell.  It will also connect with your shipping carriers, get the discounts you are entitled to, retrieve and transmit shipping details, including tracking, to your customers and the selling venues as is appropriate.  Shipping labels will be automatically printed immediately or in batches.
You need tight control over your warehouse – a way to quickly find the items to ship once sold.  If you have multiple warehouses this can be quite challenging.  A good inventory management system will overcome these challenges.
Moreover, a good inventory management system will also give you access to responsive templates for Ebay and your own e-commerce website.  Responsive is very important because they are viewable equally well whether on a desktop computer or a mobile device (smartphone/tablet).  You will get higher recognition if you use such a template, which translates into higher sales.
A good inventory management system will allow you to bulk edit your items, and to take advantage of the different offerings of each marketplace, such as repricing.
Reporting is another important feature of a good inventory management system.  You need timely reports for such things as your daily sales, profit and losses, employee productivity, and more.
Customer Service is the mainstay of a really good inventory management system.  You need proper training in how to use it, and know that someone is there to help you whenever you need it.
Kyozou is a great inventory management system and we can show you how to better manage your inventory and to increase sales.  Our Account Managers are the best in the industry – our software and customer service is award winning!  We are here to help you in every way we can.  Don't delay!  Visit us at www.kyozou.com or call us toll-free at 1-877-596-9681.  Let us help you get ready and make the Holiday Selling Season a winning on for you!
Article Written By: Kyozou Sales Manager Bryan Charendoff